Made for video. Great for stills.
Power zoom
12-28 mm ultra-wide angle
Vlogging lens
DX mirrorless
Lightweight
Widen your vision and zoom into your creative style with this ultra-portable, ultra-wide-angle power zoom lens! From inspiring vlogs to short movies and sharp snapshots, take your ideas where you want them to go.
Dynamic        12-28 mm zoom range
You can easily fit the whole scene in, or fit yourself into the frame, with this versatile ultra-wide-angle zoom lens. Go for sweeping views that will make your audience feel like they're really there, or create a sense of space when shooting in cramped indoor locations. For unusual perspectives or more subject detail, a minimum focus distance of just 0.19 m delivers razor-sharp results when you move closer.
It's all about the power zoom
The power zoom function lets you zoom smoothly and steadily without touching the lens. It's ideal if you're shooting your own vlogs or using a gimbal to capture video. Zoom in or out using assignable buttons on your Nikon Z camera body. Or use the Nikon ML-L7 Remote Control, or SnapBridge app, to control the zoom remotely.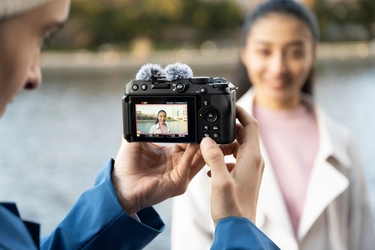 Creative zooming at your fingertips
Want to build the atmosphere with a slow zoom, or quickly zoom in on someone's reaction? You can zoom from an ultra-wide to a wide angle of view in a smooth 36 seconds. Or cover the same range in just over half a second with a fast-and-hard zoom! With 11 settings to choose from, you get precise control over the zoom speed you want to use.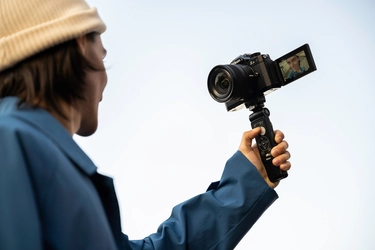 Lightweight, balanced, and gimbal friendly
When your zoom lens weighs only 205 g, and is this well balanced, you can just grab it and go. The barrel of this compact, lightweight lens doesn't get physically longer or shorter when you focus or zoom, so the lens' centre of gravity remains stable. You get optimal balance whether you're shooting handheld or using a gimbal.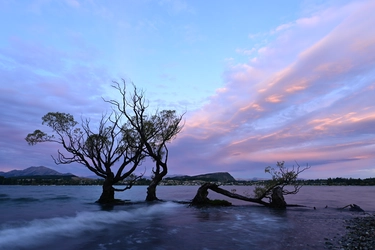 VR keeps it steady
If you're looking for a rock-steady vlogging lens, this wide-angle power zoom lens delivers. Up to 4.5 stops1 of in-lens Vibration Reduction ensures clear, blur-free shots whether you're walking and talking as you film or panning handheld. Normal and Sports VR modes in your Nikon Z camera optimise for static or active subjects. And if you want to snap photos at high speed, turning VR on won't decrease your camera's maximum burst rate.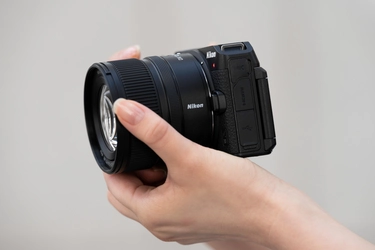 Silent control ring
The clickless, customisable control ring is great for shooting video. You can use it to create fluid aperture transitions, or tweak ISO as you film, safe in the knowledge that your footage won't pick up any operational sounds. The knurled ring is also beautifully easy to grip and adjust.
Technical Specification
Maximum aperture
f/ 3.5 to 5.6
Minimum aperture
f/ 16 to 25
Lens construction
12 elements in 11 groups (including 1 ED and 1 aspherical element)
Angle of view
DX format: 99° to 53°
Focusing system
Internal focusing system
Additional information
1Based on CIPA Standards; this value is achieved when attached to a APS-C size/DX-format camera with the camera's VR function set to "NORMAL" and the zoom set to the maximum telephoto position.
2 The lens is not guaranteed to be dust- and drip-resistant in all situations and under all conditions.