Drag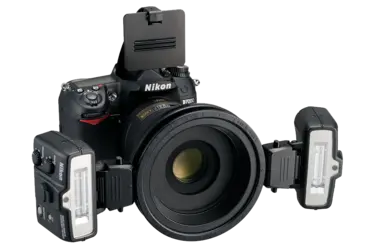 Unique Wireless Speedlight system kit for fully automatic Close-up photographic exposures. This kit comprises of two SB-R200 Remote units attached to the lens, triggered by the pop up flash of the D70s or D200. Fully automatic TTL exposure calculation and synchronization is carried out using infrared wireless communication between the camera's metering system and the remote units. The kit includes adaptors for frontal lighting, filters, and adaptor rings for the most popular Nikkor lens filter screw threads. Additional SB-R200 units or SB-800 and SB-600 units can be added to add an entirely new dimension to illuminating subjects in a wide variety of photographic situations as well. This kit configuration is recommended for D70/D70s/D200 customers.
Practical Close-up lighting kit
Includes 2 SB-R200 Remote Speedlight units
For cameras with built-in i-TTL Speedlights
SW-12 diffuser for frontal lighting effects
Adaptor rings for 52/62/67/72/77mm screw threads
Contained in practical soft case.